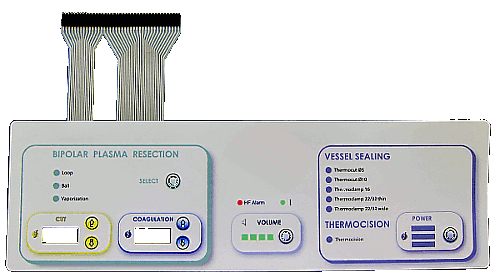 Membrane Keyboard, flexible, elastomer, silicon
Excellent reliability, aesthetics, competitiveness, easy customization, easy integration into the front, reduced thickness.
Evaluation of all type of keyboard, Facelec can provide an end to end service from design to manufacturing.
Appearance: gloss, matte or grained.
Filters, suitable for display: LED, LCD or plasma.
Keyboard with updatable legends, flat, embossed with pressure sensitive domes, finger guides, delivered with or without connector (metal domes).
Electroluminescent lamp lighting with all or a specified portion of the front of the keyboard.
Secret texts.
Supplied with adhesive backing.
Facelec manufactures its own keyboards.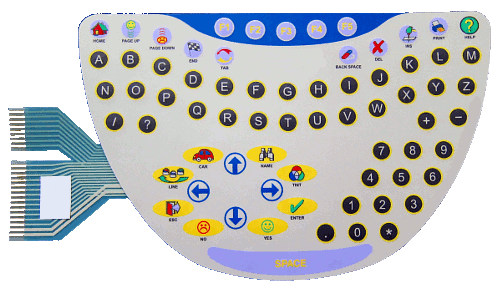 Applications
Professional: instrumentation, medical, computer, phone...
Military (waterproof keyboards), dashboard, test case...
Consumer: games, appliances, automobiles ...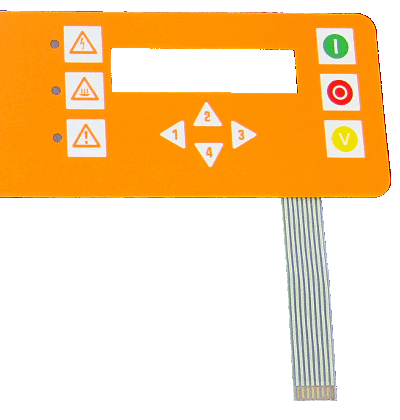 Types of keyboards
Flat1 (polyester, polycarbonate, polyurethane) from 10 to 100 million operations, multilayer, 30 V 30 mA, set connector or not. Dab with a 1 mm to 2.54 mm.
Touch1 (polyester recommended) 10 to 100 million operations (embossed or metal domes)
Transparent only on request
Silicone (small series)
(1Laying of SMD components)
Delays
Prototypes: 5 days if the films are provided or 15 days from receipt of order and all documents (allow 3 weeks if the study design is made by us)
Series: maximum 5 weeks after receipt of firm order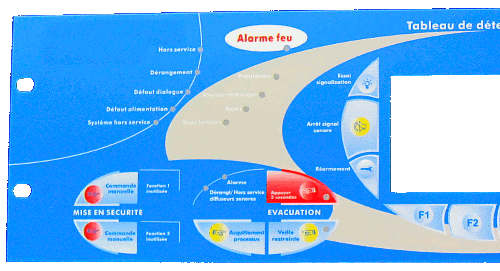 Materials
Front panel Generally polycarbonate (good strength) or polyester (good resistance to temperature and chemical agents).
Contacts part
1. Support in polyester or polycarbonate - silkscreen in ink on gold, silver or carbon.
2. Support in traditional printed circuit (single sided, double sided, multilayer with or without component).
Platrons
We also manufacture screen printed on plastrons carrier polycarbonate, polyester or other.
They are intended to dress nicely visible mechanical part, featuring the colors and markings of your choice.
They can aesthetically complement a front panel with integrated contacts.
The reverse is generally provided with a peelable adhesive.